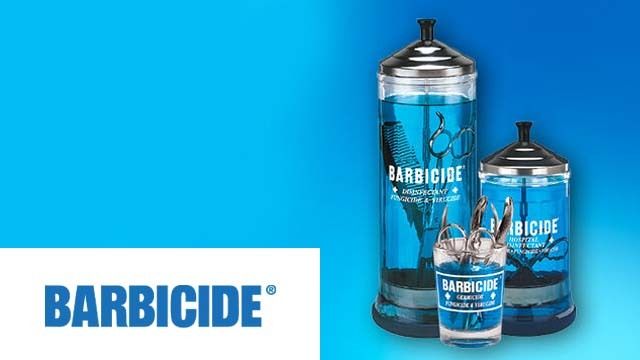 Barbicide voor een schone salon
Barbicide is de oplossing als je in een schone en hygiënische salon wilt werken. Barbicide heeft een groot assortiment aan schoonmaakproducten. Denk aan reinigende sprays om bijvoorbeeld resten haarlak en shampoo van tafels te verwijderen. Of hygiëne doekjes om snel even een schaar of toonbank schoon te maken. Maar het schoonmaakmerk heeft ook desinfectieflacons. Hier kun je gereedschap als scharen en kammen grondig in reinigen. Dit werkt erg simpel en alle bacteriën, schimmels, stafylokken, salmonella en pseudomonas worden verwijderd. Ook is er een desinfectieflacon voor manicure sets, deze werkt op dezelfde manier. Na gebruik zijn alle instrumenten weer steriel en klaar voor een volgende behandeling.


Waarom is hygiëne belangrijk?
Hygiëne is een belangrijk onderdeel wanneer je een kapsalon, beautysalon of schoonheidssalon hebt. Maar waarom eigenlijk? Ten eerste omdat jij en je klanten zo gezond blijven en geen infecties oplopen. Daarnaast voelen klanten zich ook beter op hun gemak wanneer ze in een schone omgeving terecht komen. Ze vinden het fijn als een salon lekker ruikt, het er netjes uitziet en er geen viezigheid te zien is. Dit brengt klanten in een positieve stemming! Wanneer je Barbicide gebruikt weet je zeker dat je gereedschap en je werkomgeving altijd perfect schoon zijn. Deze schoonmaakspullen zijn namelijk speciaal ontwikkeld voor de beauty industrie. 


Barbicide kopen
Wil jij er zeker van zijn dat je salon altijd perfect schoon is? Koop dan Barbice op Haibu! Wij bieden alle schoonmaakproducten aan met korting en regelmatig profiteer je van leuke acties! Nog vragen? Stel ze gerust aan onze klantenservice, zij hebben kennis over alle producten!