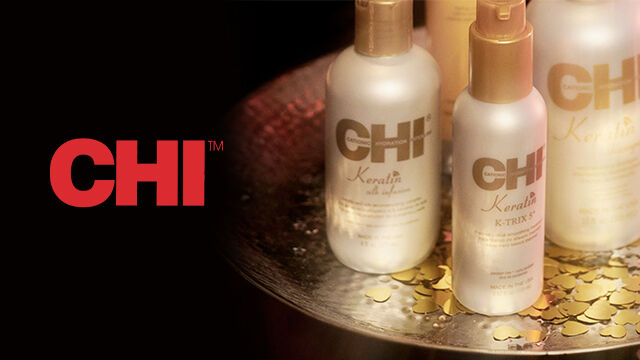 CHI Keratin herstelt beschadigd haar!
CHI Keratin herstelt beschadigd en droog haar! Kan je haar wel een boost gebruiken en wil je weer haar dat glanst en volume heeft? Dan zijn de producten uit deze lijn echt iets voor jou! De producten uit de Keratine lijn herstellen het haar op milde wijze van binnenuit en laten het weer stralen!
CHI Keratin
CHI Keratin bestaat uit een shampoo en een conditioner. De Keratin shampoo reinigt het haar op milde wijze en herstelt het beschadigde haar doordat het haar van binnenuit wordt hersteld. De essentiële jojoba- en arganoliën bevorderen gezonder en glanzend haar. Om het optimale uit je haar te halen, raden we aan ook de conditioner te gebruiken. Deze crèmespoeling zorgt, naast glanzend en gezond haar, ook voor de hoofdhuid. De conditioner is vrij van SLS, sulfaten en parabenen.
CHI Keratin Silk Infusion
CHI Keratin Silk Infusion geeft je haar intensieve hydratatie. Dus heb jij last van droog, futloos of beschadigd haar? Dan is de Keratin Silk Infusion echt iets voor jou! Deze leave-in zorgt voor een gladdere haarstructuur, brengt de glans van je haar terug en behoudt deze langdurig! Daarnaast is de Silk Infusion zeer geschikt als Heat Protector voor je stijltang of krultang! De Keratin Silk Infusion van CHI is verkrijgbaar in de volgende formaten:
Naast de leave-in is er ook een Silk Infusion Leave-in conditioner verkrijgbaar! Deze conditioner is speciaal voor zwaar beschadigd haar. Het haar krijgt een enorme boosten wordt weer verstevigd van binnenuit!
CHI Keratin Mist Leave-in Treatment
CHI Keratin Mist Leave-in Treatment is een Leave-in versterkende haarspray. De hairspray maakt het haar sterk en verzacht het haar. Daarnaast wordt je haar beschermd tegen invloeden van buitenaf, zoals UV-straling.
Bestel je producten met hoge korting vandaag nog voor 23:59 en ontvang ze morgen al in huis! Heb je nog vragen over de producten? Stel ze dan gerust aan onze persoonlijke klantenservice!