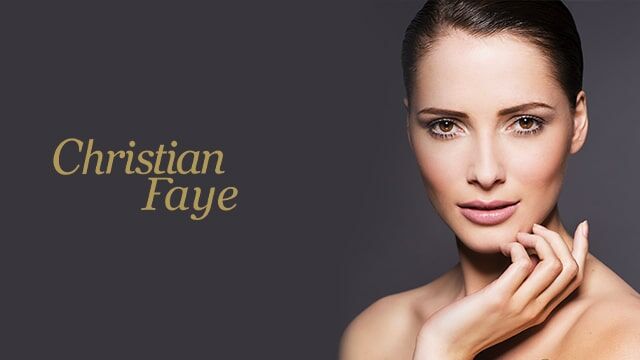 Christian Faye make-up
Christian Faye werkt met het concept: eye-for-eyes. Het merk richt zich vooral op make-up voor- en rondom de ogen. De make-up is gemakkelijk aan te brengen en blijft de hele dag perfect zitten. De producten zijn erg innovatief, van hoge kwaliteit en bevatten natuurlijke ingrediënten. Daardoor is de make-up voor iedereen geschikt. Creëer smokey-eyes of ga voor prachtige wenkbrauwen!   
Ogen
Christian Faye Eyeliner is een prachtige eyeliner die tot wel 24 uur lang blijft zitten. Deze waterproof eyeliner geeft jou een intense blik. De eyeliners van Christian Faye beschikken over een formule waardoor je ze heel makkelijk aan kan brengen. Ga voor een sterke blik met een zachte finish! De eyeliners zijn verkrijgbaar in de kleuren Charcoal, Dark Blue, Black, Purple en Dark Brown.
Creëer prachtige Smokey Eyes met de Christian Faye Smokey Eyes of Quattro Eyeshadow. In een paar stappen maakt de kit het mogelijk om zelf prachtige Smokey Eyes te maken. De Smokey Eyes Oogschaduw is verkrijgbaar in de kleuren Purple, Black, Blue en Brown. De Quattro Eyeshadow is verkrijgbaar in Black, Blue en Brown.   
Wenkbrauwen
Christian Faye Wenkbrauwgel is een doorzichtige formule die makkelijk op de wenkbrauwen aan te brengen is. Met de gel breng je jouw wenkbrauwen in de vorm zoals jij ze wilt. Ze blijven de hele dag in model zonder dat de wenkbrauwen stijf worden. Geniet van een langdurig resultaat. De wenkbrauwgel is verkrijgbaar in Clear en Brown.
Een goede combinatie met de wenkbrauwgel is de wenkbrauwpoeder. De poeder is geschikt voor het kleuren van de wenkbrauwharen. De poeder is goed gepigmenteerd en waterproof. En naast de wenkbrauwhaartjes kleurt de poeder ook de huid, daardoor zien je wenkbrauwen er egaal uit. De poeder blijft tot wel 24 uur zitten. De wenkbrauwpoeder is in 8 verschillende kleuren verkrijgbaar op Haibu. De poeder is ook beschikbaar in een Duo Kit. Naast een poeder zit er in de kit ook een highlighter om een glans aan te brengen. Je geeft je wenkbrauwen meer vorm en kleur!
Wil jij niet elke ochtend jouw wenkbrauwen bijwerken en opnieuw kleuren, ga dan voor de Christian Faye Wenkbrauwverf. De verf op gel basis is geschikt voor het verven van wenkbrauwen én wimpers. In slecht 15 minuten ben je voorzien van mooie wenkbrauwen en wimpers met een kleur die tot wel 6 weken blijft zitten.