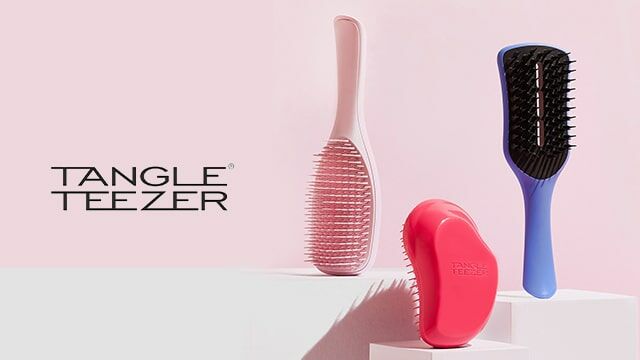 Tangle Teezer Wet Detangler
The Wet Detangler
The Wet Detangler is de nieuwste anti-klit borstel van Tangle Teezer. Deze borstel heeft een handvat waardoor de borstel nog makkelijker is in het gebruik. Door het handvat heb jij anti-slip grip. Het fijne aan de Tangle Teezer The Wet Detangler is dat de borstel waterbestendig is en hierdoor goed te gebruiken is in nat haar of bijvoorbeeld tijdens het douchen. De Tangle Teezer is een pro in het ontklitten van natte haren, zonder te trekken of vast te blijven hangen! Het haar zal dan ook niet afbreken en kun je gaan genieten van pijnloos ontward haar!
The wet detangler is er nu ook in het mini! Perfect voor op reis, in je handbagege of je handtas!
Waarom is de tangle teezer zo goed voor het haar?
Deze borstel ontwart je haar met gemak, je zult bij het eerste gebruik al merken dat je moeiteloos door je klitten heen kamt zonder pijn. De Tangle Teezer bevat flexibele pinnen waardoor je haar minder snel afbreekt, hierdoor wordt je haar op den duur voller en voelt en ziet het er gezonder uit. Door deze revolutionaire pinnetjes krijgt je hoofdhuid een zachte massage waardoor de doorbloeding beter wordt en je haar ongelooflijk veel glans krijgt. Tangle Teezer maakt het dan ook iedereen naar z'n zin door verschillende modellen en kleuren aan te bieden. Hieronder vind je het totale Tangle Teezer assortiment en de bijbehorende kenmerken.
Voordelen van een Tangle Teezer
De Tangle Teezer ligt erg fijn in de hand door het ergonomische design. De borstel ontklit het haar met gemak en is compleet pijnloos. Je haar heeft minder last van haarbreuk en kan zowel in droog als in nat haar gebruikt worden. Tijdens het gebruik geven de flexibele pinnetjes je hoofdhuid een heerlijke ontspannende hoofdmassage, je doorbloeding wordt beter en je haar verkrijgt meer glans!
Ontklit pijnloos
Minimaliseert haarbreuk
Verbetert de doorbloeding
Op zowel nat als droog haar te gebruiken
Handig ergonomisch design
Versnelt de droogtijd
Shop ze op Haibu!
Twijfel je of je de juiste borstel geselecteerd hebt? Neem gerust contact op met onze klantenservice. Zij helpen je graag verder met professioneel advies!