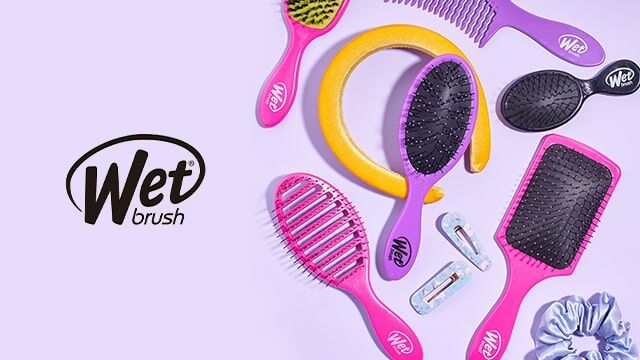 Wet brush haarborstel kopen

Wil jij een haarborstel kopen die écht goed is? Gan dan voor the wet brush anti-klit borstel. De haarborstel is al lange tijd ontzettend populair in Amerika en nu ook in Nederland en België! Het is een uitkomst voor iedereen die moeilijk klitten uit het haar krijgt. Dit komt omdat de borstel beschikt over Intelliflex™ borstelharen. Dit zijn super dunne, sterke en flexibele haren. Dit zorgt ervoor dat de borstel soepel door het haar glijdt en alle klitten pijnloos uit het haar haalt. De borstel voorkomt dat de hoofdhuid en het haar beschadigen. Je kan dus altijd veilig je haar kammen en borstelen.


Wet brush review

De borstel van wet brush is door onze klanten beoordeeld met vijf sterren! Klanten geven aan dat de borstel precies doet wat de beschrijving zegt. Hij glijdt makkelijk door het haar en ontklit zonder pijn. Van een aankoop krijg je zeker geen spijt!


Voor wie is de haarborstel geschikt?

Iedereen kan deze fijne haarborstel gebruiken want hij is geschikt voor alle haartypes (steil, krullend, dik of dun, alles is mogelijk). Daarnaast werkt the wet brush ook ideaal op extensions, pruiken en haarstukjes. De haarborstel mag je zowel op nat als droog haar gebruiken. Houd er wel rekening mee dat nat haar altijd wat kwetsbaarder is. Ook is er aan het uiterlijk gedacht want je hebt keuze uit allerlei leuke trendkleuren. Niet zo gek op kleur? Natuurlijk is die ook verkrijgbaar in het zwart!


Shoppen op Haibu

Haibu is dé online groothandel in kappersproducten en beautyproducten. Naast haarborstels koop je ook alle andere kappersbenodigdheden op onze shop! Wij bieden alles aan tegen de beste prijs!