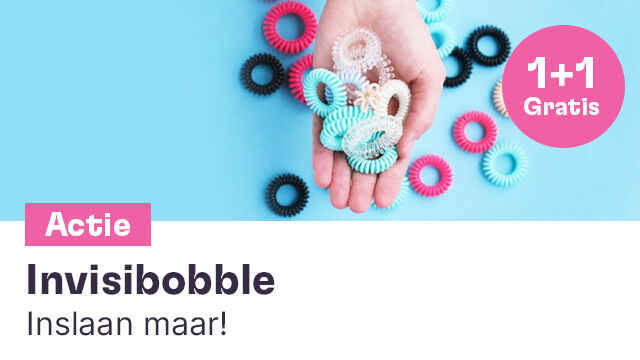 Invisibobble Waver
De Invisibobble Waver is het nieuwe unieke ontwerp van Invisibobble. Deze haarschuifjes zijn gemaakt van speciaal materiaal waardoor ze super zacht en comfortabel aanvoelen!
Waver of haarspeldjes?
Het verschil tussen de Invisibobble Waver en reguliere haarspeldjes zit hem in het unieke design en het bijzondere materiaal. Dankzij dit design en het gebruikte materiaal en doordat er geen gebruik wordt gemaakt van metaal, heeft de Invisibobble Waver geen scherpe randen. Hierdoor is hij veel zachter voor het haar en zal het, het haar niet beschadigen.
Wat is er bijzonder aan het design van de Waver?
De onderkant van de Invisibobble Waver is gebogen. Hierdoor sluit de Waver mooi aan op de hoofdhuid.
De bovenkant van de Invisibobble Waver heeft een spiraalvorm, geïnspireerd op de vorm en functionaliteit van de Invisibobble haarelastiekjes. Deze driedimensionale golfvorm van het haarschuifje houdt het haar stevig in model, zonder dat het wordt samengedrukt.
Dankzij dit design heeft de Invisibobble Waver een hoog draagcomfort en zullen er geen vervelende bobbels in het haar ontstaan wanneer je de Waver uithaalt. Precies zoals je gewend bent van Invisibobble!
Super simpel
Naast de spiraalvorm aan de bovenkant, heeft de Invisibobble Waver ook een innovatieve sluiting. Deze Slide Lock-technologie maakt dat je de Waver super simpel met twee vingers en een draaiende beweging kunt openen en sluiten!
Voor iedereen een Invisibobble Waver
Draag de Invisibobble Waver om jouw haarstyle te fixeren, of gebruik hem als leuke haaraccessoire. Dankzij de verschillende kleuren en designs is de Waver voor alle haarkleuren te gebruiken.
Heb je dik haar en blijft de Invisibobble Waver niet goed zitten? Kies dan voor de Invisibobble Waver PLUS. Deze Waver is sterker en uitermate geschikt voor dikker haar!