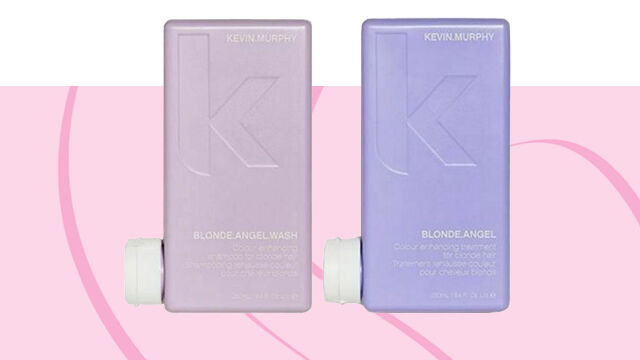 Pakketten voor blond haar
Pakketten voor blond haar
Of je je haren nu laat blonderen bij de kapper of zelf aan de slag gaat, je haren kunnen na verloop van tijd geel worden. Dit komt omdat je het haar ontkleurt (het woord verven is hierbij niet echt de juiste term). Je hebt van jezelf twee pigmenttypes, de donkere pigmenten en de lichte pigmenten. Bij het blonderen pak je beide pigmenttypes behoorlijk aan. Je haar heeft de neiging om deze pigmenttypes weer te herstellen, waardoor het haar als het ware langzaam 'terug' kleurt en er gelig uit gaat zien. Om dit te voorkomen kun je het beste een haarmasker gebruiken of een haarcrème met een hoge zuurgraad. Om het blonde haar verder te onderhouden, kun je af en toe een zilvershampoo gebruiken.
Omdat geblondeerd haar zo snel droog en pluizig kan worden, zijn speciale verzorgingsproducten een aanrader. Veel grote haarmerken hebben inmiddels producten in het assortiment die speciaal geformuleerd zijn voor blond en geblondeerd haar.
Tips voor het verzorgen van blond gekleurd haar
Spoel je haar na met koud water om de haarschubben te sluiten, gebruik altijd een conditioner na elke wasbeurt en slaap met je haren in een vlecht of staart. Dit helpt haarbreuk te voorkomen. Denk bij het gebruik van hitte tools (vooral bij blond gekleurd haar) aan dat je het goed verzorgd. Gebruik ten allen tijden een heat protection om het haar ultiem te verzorgen! Producten met vitamine A helpt de gezondheid van het haar te ondersteunen.
 Een conditioner is onmisbaar als je je haren geblondeerd hebt. Conditioners sluiten de haarschubben en polijsten het haar, zodat het minder kans heeft om broos en breekbaar te worden. Zorg ook hier weer dat je een conditioner voor geverfd haar gebruikt en kijk ook of je liever een uitwasbare conditioner gebruikt, of juist een leave-in conditioner. Een conditioner van goede kwaliteit verfrist en vernieuwt de haartint, waardoor het blonde ook echt blond blijft. Als je je haren hebt geblondeerd is een verzorgend haarmasker een grote aanrader. Met name bij droog en pluizig haar kan een haarmasker het verschil maken. Het masker dringt diep door in de haarwortels en hoofdhuid. De hoofdhuid wordt gereinigd van onzuiverheden en het haar wordt ontgift. Het haar gaat er hierdoor gladder en voller uitzien.