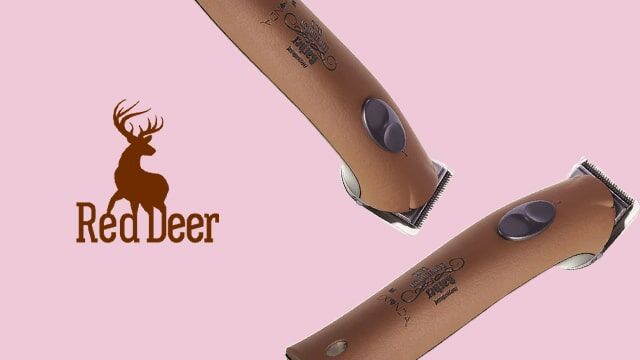 Voeg toe aan verlanglijst
Red Deer Tondeuse
Red Deer heeft een tondeuse die niet te vergelijken is met welke andere professionele tondeuse dan ook: de Red Deer Barber Clipper No.1. Krachtig, licht gewicht en geschikt voor links- én rechtshandig gebruik!
Ontwikkeld in samen werking met de beste professionals
De Red Deer Barber Clipper is een professionele tondeuse die is ontwikkeld in samenwerking met de beste kappers van over de hele wereld. Hierbij is er rekening gehouden met alle unieke wensen van de kapper, waardoor deze tondeuse uniek eigenschappen heeft die geen enkel andere tondeuse heeft. De tondeuse van Red Deer is niet te vergelijken met welke andere professionele tool dan ook.
Geoptimaliseerd voor intensief professioneel gebruik
De tondeuse is licht in gewicht (slechts 300 gram!), ontzettend krachtig en is geoptimaliseerd voor intensief gebruik. Dankzij het lichte gewicht wordt de belasting op spieren en gewrichten geminimaliseerd. Het apparaat heeft een krachtige DC motor die ontzettend stil en trillingvrij is. Bovenop de tondeuse zit een luxe ronde schakelaar waarmee je de keuze hebt tussen twee snelheden: 3900 of 4700 toeren.
Ultieme precisie
De precisiesnijkop is ontwikkeld en geproduceerd in Zwitserland en is gemaakt van laser gesneden roestvrij staal. De snijkop is gemakkelijk te verwijderen en te bevestigen dankzij het eenvoudige "Click" systeem. Zo kun je al binnen 5 seconden wisselen tussen deze snijkop of de apart verkrijgbare "Fade" snijkop. Met de traploos verstelbare lengte hendel stel je de snijlengte in van 0.5mm – 3.5mm. Deze hendel is gemakkelijk aan te passen voor zowel rechts- als linkshandig gebruik.
Constante kracht, de hele dag door
Bij het ontwikkelen van de Barber Clipper is er bewust gekozen om gebruik te maken van een snoer. Doordat de tondeuse een snoer heeft in plaats van een accu, zal het apparaat nooit kracht verliezen op de ingebouwde en zeer sterke motor. De tondeuse hoeft niet tussendoor opgeladen te worden en is dus altijd klaar voor gebruik. Zo kun je met één apparaat de hele dag werken!
Het gevoel van snoerloos werken
Het snoer is 3,5 meter lang en het aansluitpunt aan de tondeuse draait 360 graden mee. Hierdoor ontstaat er geen tegendruk en heb je het gevoel volledig snoerloos te werken! Het snoer is gestoffeerd waardoor het een luxe uitstraling krijgt.
Personaliseer jouw tondeuse
Wil jij jouw Red Deer Barber Clipper personaliseren? Dat kan! Voor deze tondeuse zijn namelijk verschillende zijkanten te bestellen die je op jouw tondeuse kunt monteren. Kies voor het Red Deer logo, Black of Brown.
Ga voor absolute precisie en maximale duurzaamheid
De Red Deer Barber Clipper wordt geleverd inclusief 4 carbon opzetkammen van 1.5mm, 3mm, 4.5mm en 6mm. Deze opzetkammen zijn samen met het traditionele borstel- en kammerk Hercules Sägemann ontworpen en zijn gemaakt van een koolstof-kunststof composiet.
Gebruik de Red Deer Comb Set in combinatie met jouw Barber Clipper en creëer de hele dag door de meest mooie creaties vol precisie! Deze set wordt standaard geleverd bij aanschaf van de Red Deer Barber Clipper No.1.