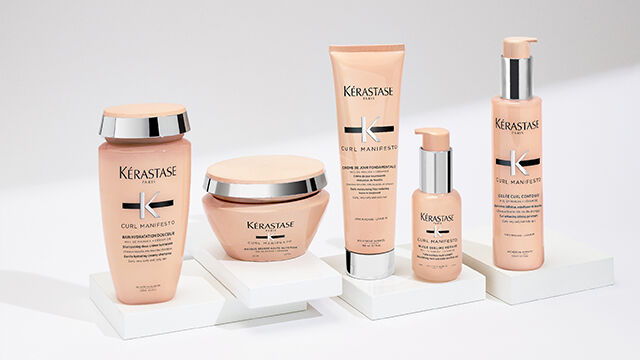 Kérastase Curl Manifesto
Haal het beste naar boven uit krullend haar met de Kérastase Curl Manifesto routine. De producten uit deze lijn zijn speciaal geschikt voor gekruld en kroes haar.
Alle producten uit deze lijn hebben een formule doordrenkt met Manuka Honing en Cement-Ceramide. Dit geeft krullen de essentiële hydratatie en voeding die ze nodig hebben waardoor zowel de natuurlijke krulvorming als het volume van de krullen wordt verbeterd.
Curl Manifesto routine
Gebruik eerst de shampoo om het haar te reinigen. Geef het haar daarna de ultieme verzorging met de conditioner of het haarmasker. Modelleer het haar met de haar- en hoofdhuidolie, gelcrème en leave-in crème. Wil je de volgende dag ook nog genieten van een prachtige bos krullen? Verfris het haar dan met de Refresh Spray.
Voordelen Kèrastase Curl Manifesto
Reinigt op milde wijze de hoofdhuid, het haar en verwijdert alle vuil en onzuiverheden
Doordrenkt krullen met vitale hydratatie zonder het haar te verzwaren
Behoudt de natuurlijke oliën en bevordert een gezonde hoofdhuid om haargroei te stimuleren
Geeft volume
Definieert de krullen
Hydrateert en laat stralen
Curl Manifesto nog voordeliger shoppen?
Wellicht ben je al heel lang fan van de Curl Manifesto lijn van Kèrastase of wil je het graag uittesten voor bij jouw thuis of in de salon? Dat kan! Wij hebben een pakket samengesteld met de vier top producten van Curl Manifesto. Benieuwd naar meer van onze samengestelde pakketten? Ontdek het op Haibu!
Inhoud van het samengestelde pakket:
Kerastase Curl Manifesto Bain Hydratation Douceur 250ml
Kerastase Curl Manifesto Fondant Hydratation 250ml
Kerastase Curl Manifesto Masque Beurre Haute Nutrition 200ml
Kerastase Curl Manifesto Gelee Curl Contour 150ml
Vrij van
Alle producten zijn vrij van sulfaten, parabenen en minerale olie. Daarnaast bevatten de Huile Sublime Repair, Gelée Curl Contour en de Crème Du Jour Fondamentale geen siliconen.
Curly Girl Proof!
Curl Manifesto Bain Hydratation Douceur, Huile Sublime Repair, Gelée Curl Contour en de Crème Du Jour Fondamentale zijn geschikt voor gebruik bij de Curly Girl Methode.
Benieuwd naar meer producten van Kèrastase? Ontdek hier ons gehele aanbod!