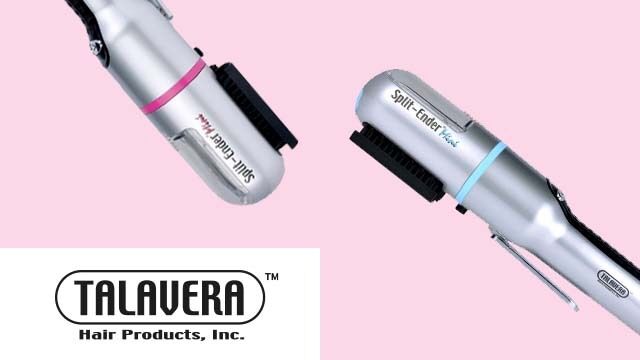 Gespleten haarpunten verwijderen: Talavera
Makkelijk en snel gespleten haarpunten verwijderen? Gebruik de Split-Ender Pro van het merk Talavera. De Split-Ender Pro is een tool die gespleten haarpunten uit je haar haalt zonder het haar korter te maken. Door deze innovatieve tool heb je dus geen schaar meer nodig om die vervelende punten te verwijderen. Het apparaat doet al het werk voor je! Maar let op: de tool haalt alleen de gespleten punten eruit. Om het haar korter te maken of droge punten te verwijderen heb je nog wel een kappersschaar nodig.
Gebruiksaanwijzing Split-Ender Pro
Wil je weten hoe het apparaat om gespleten haarpunten te verwijderen werkt? Op ons YouTube kanaal vind je een filmpje waarop wij laten zien hoe de tool werkt. Wil je uitgebreide informatie waarin alles stap voor stap wordt uigelegd? Deze vind je bij de productspecificaties.
Haarverzorging voor gezond haar
Bij lang haar komen gespleten haarpunten regelmatig voor. Dat is helemaal niet erg want gespleten haarpunten verwijderen gaat nu heel makkelijk. Maar om het haar mooi te houden is goede haarverzorging van belang. Voor elk haartype hebben wij daarom fijne verzorgingsproducten in het assortiment. Denk hierbij aan beschadigd haar, gekleurd haar of dunner wordend haar. Bekijk alle haartypes en producten op Haibu.
Wil jij de tool uitproberen?

Wil jij deze innovatieve tool uitproberen? Je koopt de Talavera Split-Ender Pro op Haibu voor een voordelige prijs. Voor vragen en advies mag je altijd contact opnemen met onze professionele en vriendelijke klantenservice. Zij helpen je graag op weg!