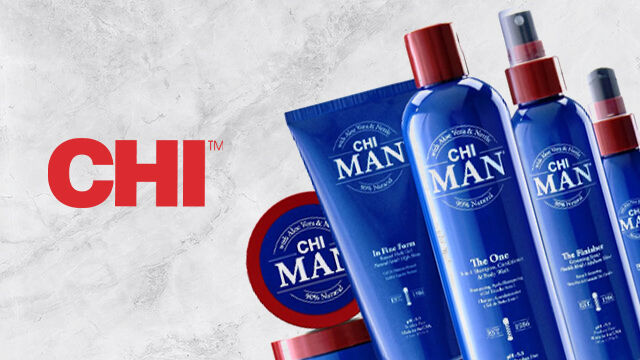 CHI MAN
De MAN lijn van CHI bevat producten speciaal gericht op de man! De producten uit het CHI MAN assortiment hebben die echte, traditionele herenkapper uitstraling. De lijn bestaat uit alleen de écht nodige producten, geen overdreven poespas. Overzichtelijk en duidelijk!
Maak jouw barbershop of (heren)kapsalon compleet met de producten van CHI MAN!
Ingrediënten
CHI MAN speelt in op de behoefte aan producten die gezonde ingrediënten bevatten. Alle producten uit deze lijn zijn dan ook vervaardigd met Aloë Vera en brandnetel. Deze ingrediënten verzorgen haar en hoofdhuid intensief en zorgen ervoor dat deze goed gehydrateerd blijven.
De producten van CHI MAN zijn daarnaast vrij van parabenen en, zoals je van CHI gewend bent, zijn ze niet op dieren getest. Tevens bevat het assortiment ook producten die vrij zijn van sulfaten, zoals de CHI MAN The One 3-in-1 Shampoo, Conditioner & Body Wash of de CHI MAN Low Maintenance Texturizing Spray.
CHI: haarproducten en stylingtools van hoge kwaliteit
CHI is uitgegroeid tot één van de meest populaire merken wanneer het gaat om stylingtools. Het merk valt onder het Amerikaanse bedrijf Farouk Systems, wat ook produceert met Biosilk. Farouk Systems heeft de missie de professionele beauty industrie te voorzien van geavanceerde technologie. CHI biedt daarom de hoogste kwaliteit aan verzorgingsproducten, stylingsproducten en stylingtools zoals krultangen, stijltangen en föhns.