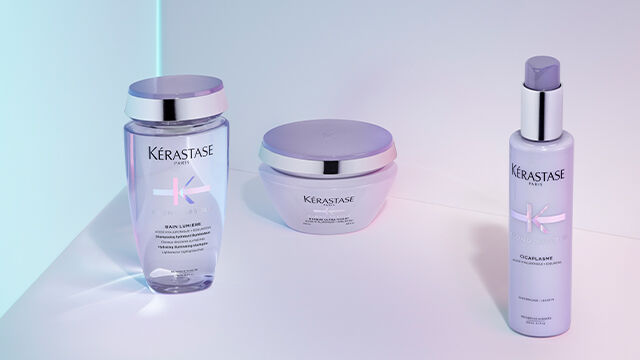 Kérastase Blond Absolu
Maak kennis met Kérastase Blond Absolu, een gamma speciaal geschikt voor het mooiste blonde, grijze, ontkleurde of gehighlight haar!
Blond haar kent geen grenzen als je de juiste producten hebt die jouw haar gezond houden! Met Kérastase Blond Absolu is er voor iedere blondine een perfect passend verzorgingsritueel. De vezels worden diep gehydrateerd en hersteld door het toegevoegde hyaluronzuur en Edelweiss. Daarnaast bevatten de producten ultra-violet bestanddelen die oranje en gele tonen in het haar neutraliseren.
Reinig, verzorg en modelleer. Dat is het ritueel van Kèrastase. Deze stappen worden in de salons aangehouden en met de producten van Kérastase kan jij diezelfde verzorging thuis voortzetten. Voor elk haartype heeft het merk producten. Ongeacht welk haartype je hebt, met de producten van Kérastase laat je jouw haar weer stralen!
Ontdek de producten van Blond Absolu
Het gamma van Kérastase Blond Absolu bestaat uit 5 topproducten:
Kérastase Blond Absolu Bain Ultra-Violet is een zilvershampoo die ongewenste gele en oranje tonen uit het haar neutraliseert. Daarnaast wordt het haar beschermt tegen dagelijkse oxidatie en vervuiling. Het haar krijgt een echte boost!
Wil je liever de warme tint in jouw blonde haar behouden? Kies dan voor de Kérastase Blond Absolu Bain Lumière. Deze shampoo bevat geen violet-pigmenten. Wel reinigt de shampoo het haar en zorgt het ervoor dat het intens wordt gehydrateerd. Het haar wordt glad, luchtig en krijgt een heldere, natuurlijke glans. Daarnaast is het haar beschermd tegen schadelijke invloeden van buitenaf.
Kérastase Blond Absolu Cicaflash heeft de herstellende prestaties van een haarmasker, maar met de luchtige afwerking van een conditioner. Cicaflash herstelt de haarvezel direct waardoor de kans op haarbreuk wordt verkleint. Het haar wordt beschermd tegen dagelijkse erosie.
Het Blond Absolu Masque Ultra-Violet van Kérastase neutraliseert direct warme tonen in het haar. Daarnaast geeft het masker een intensieve en diepgaande verzorging aan het breekbare ontkleurde haar, waardoor het haar weer herstelt. Het haar wordt beschermd tegen dagelijkse oxidatie en vervuiling. Na gebruik kun je genieten van verzorgde en glanzende blonde lokken!
Maak het haar gezonder en sterker met het Kérastase Blond Absolu Cicaplasme. Cicaplasme is een intense voeding en hittebescherming in één. Deze leave-in behandeling herstelt de vezels direct en zorgt voor minder haarbreuk.
Shop Kèrastase Blond Absolu op Haibu!
Bestel nu jouw Kérastase Blond Absolu producten op Haibu en geniet morgen al van prachtig gezond en glanzend blond haar! Want wanneer jij jouw bestelling voor 23.59 uur plaatst, heb je hem in de meeste gevallen al de volgende dag in huis.
Heb jij nog vragen of wil je hulp bij het kiezen van de juiste producten voor jouw blonde haar? Neem gerust contact op met onze professionele klantenservice. Zij helpen je graag verder!
Benieuwd naar meer producten van Kèrastase? Ontdek hier ons gehele aanbod!